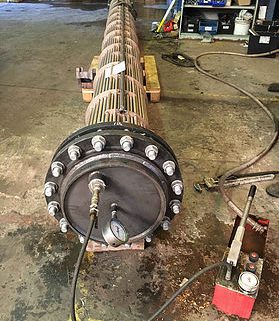 World Heat Cylinders have recently manufactured a replacement oil cooler for use on an oil rig in the Irish Sea.
The heat exchanger needed to be manufactured to match the existing shell exactly as it incorporated a floating header which needed to seal tightly at one end.
The exchanger was over half a meter in diameter and 6 meters long. It was constructed with cupro nickel tubes and tube plates for enhanced corrosion resistance and comprised of over 240 individual tubes.
The heat exchanger was shipped out to the rig at the beginning of June and fited precisely first time which is a glowing credit to our fabricators and engineers and opportunity for us to show just how skilled our workforce actually are.
https://www.whcylinders.co.uk/wp-content/uploads/2017/05/4acd2a_7a24606960ac4698b8adf3aa2bf96e8cmv2_d_3024_4032_s_4_2.jpg
372
279
WHCylinders
https://whcylinders.co.uk/wp-content/uploads/2017/05/logo1.jpg
WHCylinders
2016-06-21 10:54:01
2019-04-25 10:59:56
Oil Cooler Heat Exchanger Manufactured